From:
"Markets & More" <
Markets__More@mail.vresp.com
>
Date:
June 9, 2017 at 11:28:01 AM EDT
Subject:
Exciting Cooking Demo Sunday with Luke
Reply-To:
"Markets & More" <
reply-f57aef5a4b-6c451db47e-71ba@u.cts.vresp.com
>
Hi BFM Fans,

We are very excited that Luke Hall is joining us this Sunday for a market chef demo. You may remember that Luke was the first market manager of 14&U FM and after he jumped to the producer side, he ran the North Mountain Pastures Stand at both markets. He worked on their farm, learning about animal husbandry, charcuterie and fermented foods. He was passionate about fermented foods. (He came up with the idea of using pickle juice for cocktails.) And you may see him helping out Shawna and Mountain View Organics from time to time.
Luke is from Kentucky where his love of cooking and all things farms and farmers markets started. He is a wonderful market-inspired cook whose dishes reflect his travels and his work over years with refugees all around the world. One current project is his supper club, Luke's Kitchen Pop Up Cost Share. Check out his fb page
here.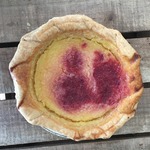 WHISKED!
has brought back their classic June Lemon Strawberry Pie. And here is why they love it:
It is a classic summer flavor that no one says no to.

The strawberry swirl on lemon yellow is just so pretty --so impress your guests with it.

It loves to be served at room temperature or even chilled -- so it makes a refreshing dessert after a hot day

It creates the perfect harmony between tart and sweet. Not much sugar in the lemon filling so the lemon is a star, dancing with the homemade strawberry compote

It is the best of American baking- simple but stunning. Just 6 ingredients: lemon juice, eggs, sugar, butter, flour and local strawberries.
REID: Strawberries, plants, a handful of apples and sugar snap peas this weekend-- and maybe the first sweet cherries.

GARNER: Green frying tomatoes, skinny green and yellow wax beans, new potatoes.

NUMBER 1 SONS: Last two weeks for the Spring Ramp Kraut. All the cucumber pickles are back.

GARLIC SCAPES and GREEN GARLIC
GARNER:
sweet candy onions, Swiss chard, sugar snaps, English peas, summer sqush –Ishtar, Patty Pan, Golden zuchini, yellow squash green zukes. Green frying tomatoes, green and yellow wax beans, broccoli, kale, collards, beets, Hakurei salad turnips, new spuds, shelled sweet peas, kohlrabi, high tunnel tomatoes including cherry tomatoes, parsley, chives, dill, basil, mint, cabbage –regular, arrow and Savoy, squash blossom.

NUMBER1 SONS
:
Caitlin says: "Customers tell me they are eating the Spring Ramp Kraut with fish, eggs, tacos and race bowls. Fish and kraut? Who woud've thought, but the dill ties it all together nicely." Don't miss the spicy Kicky Koshers, my personal fave last week.

KESWICK CREAMERY:
Spend some time with Sara Kelley whose goats provide the milk for the goat and mixed milk cheeses. She is a cheesemaker with Melanie at Keswick and this week she is bringing their brand new cow's milk Romano for the first time. Romano in Italy is called Pecorino Romano and is made of sheep's mil but in North America, it is usually a cow's milk cheese and called Romano.
This
website shows a very nice step by step series of photos that shows you how it is made.

PANORAMA
:
2 French bakers from Brittany make our breads and breakfast pastries: including baguettes, croissants, sour doughs, whole wheats, rye, multigrain loaf with sesame seeds.

TRUCKPATCH
:
Our salad central! And Bryan raises pastured pork and chickens, too. Famous bacon. Strawberries, asparagus, greens and beets.

KUHN'S ORCHARDS: Strawberry sales on their Flavorfesst and Chandler varieties. GoldRush, CrimsonCrisp, Pink Lady, Fuji Apples (3 lb bag for only $5). Asian Pears. Last 2 weeks for asparagus. Rhubarb, green garlic, shallots, not quite perfect carrots on sale. Apple cider, applesauce, dried apples, jams and jellies, canned peaches, peony bouquets. Garlic Scapes.



MOUNTAIN VIEW ORGANICS:
Spinach, lettuces, beets, carrots, sugar snaps, spring onions, strawberries, kale, swiss chard, collards, Green Garlic, Garlic scapes.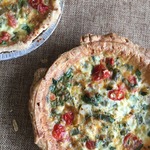 Southwestern Summer Quiche
WHISKED:
Besides the wonderful Strawberry Lemon pie, you will also find these late Spring pies: Cookies and Cream, Rhubarb, Strawberry Rhubarb, Dutch Almond Apple, Salted Caramel Spple, Sea Salt Chocolate Chess, Bourbon Pecan. Quiches: Southwest Summer Quiche spiced with Thai Basil Jalapenos, Spinach Basil & Sun-dried tomatoe, Bacon Cheddar & Onion back from popular demand. Roasted Red Pepper & Goat Cheese. Cookies: have you discovered the new Lemon Sugar?

CUCINA AL VOLO: not only do Daniele and Mateo create authentic Tuscan pastas and other Italian sauces, but the pasta and sauces all freeze well and can be the basis of a restaurant quality meal, in oh, 10 minutes from the time you put a pot of water on the stove.
Little Wild Things:
salad greens with flowers, pea and sunflower shoots, farmer's choice microgreens and edible flowers. Yum!
--------------------------------------------------------------------------------------------------------------------------------
The DC Produce Plus Program
has begun and we are a major distributor so that all our neighbors can eat local, fresh fruits and vegetables. Produce Plus is a
program
through which eligible individuals can receive $10 in farmers market checks, at two markets per week. (All qualifying participants wil need to recertify the first time they visit a market this season, with t heir DC photo ID and program identification, for example their SNAP EBT card or WIC folder or Medicaid card).
---------------------------------------------------------------------------------------------------------------------------
MUSIC

:

Violinist

Nataly M. and company will distract you from the heat..

BIKE HOUSE

: Bring your bikes and work on them with the Bike House experts. 11-1.
See you Sunday.

Robin, the Teds, Andre, Rebecca and Shola