From:
"Markets & More" <

Markets__More@mail.vresp.com

>
Date: November 18, 2016 at 7:40:02 PM EST
Subject:

Don't miss the last BFM of 2016



Hard to believe that it is the end of our tenth season. All of us, staff and producers, love being here on Sundays, as part of the BFM community we have all shared and continue to build. I hope you have as well. It is always sad for us to end the season. All the producers always tell me that BFM is the best and most welcoming market they know. Yay for all of us.
BUNDLE up. It will be chilly and windy.
How to keep that BFM feeling all winter?
Please follow us on

instagram

@bloomingdalefm. At least for now, everything we post is sent to you, unlike FB that no longer sends you (and our other 3,076 fans) most of our posts and pix and recommendations for great recipes unless we pay them.
(although if you keep checking the FB page and liking our posts, they will eventually send you what we post. FB subversion. )
Plus you can share your pix of the market and the dishes you cook at our hashtags:

here

#bloomingdalefm or

here

#bloomingdalefarmersmarket .


LAST CALL for TOKENS: Please bring them back to market and use them.

They are hiding in your Fall coats and jackets and yearning to be spent at the market. The Bonus tokens expire forever on Sunday.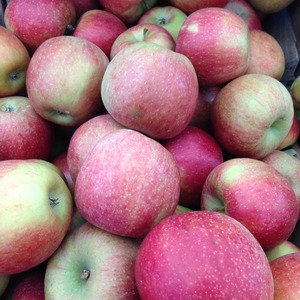 Reid's has the best selection I have seen in our region of both famous and heirloom apples. Ask Conor and Kara for the best varieties for pies and applesauce and other apple recipes. Remember that apples should be kept cool in the fridge, ideally in a perforated plastic bag. They will last for weeks that way. And apple gas does turn carrots bitter so keep those them apart.




Voluptuous pumpkins and winter squash-- they keep for months in a cool, dry closet or cellar. And did you know that butternut squash is what you should use for pumpkin pie? (That is what is in the cans)
MUSIC AT MARKET
:
10-12
BIKE CLINIC: 11-1 for your final tune up of the season
·
NEW Queen Ann honey from the rooftop hives at Langley Stem.
·
A dozen different winter squashes and pumpkins at the stands
·
Brussels sprouts-- roast or saute them, please. Great with Sriracha aioli
·
Many different sweet potatoes
·
Little Gem lettuces at Mt View
·
Cider rules at Reid -- SIX types of cider!
·
The Blue Suede Moo is a very good blue cheese at Keswick.
·
Lettuces, Spinach, Collards, Kales, Swiss Chard, Bok Choy, Arugula
·
Whisked Thanksgiving Pies including their exclusive Pumpkin Cheesecake Pie
·
Bacon and pastured pork in all cuts
·
dozens of Reid apple varietals
·
Sauerkraut is wha's on the Baltimore Thanksgiving tables. Try it.
·
Keswick cheeses last at least a month in the fridge and the yogurt as well.
·
Number 1 Sons kraut, kimchi and pickles just keep going on, in the fridge.
·
Freeze Whisked Pies and Panorama's breads
·
Dress Cucina al Volo's pumpkin ravioli with sage and butter for Thanksgiving-- takes no time.
·
Cider keeps at least 6 months in the freezer if you remove an inch for expansion.
The producers are bringing EVERYTHING in the fields to our stands Sunday. It will be a real Thanksgiving cornucopia. Everything you want for your Thanksgiving feast will be there.
Markets & More
1318 Wallach Place NW
Washington, District of Columbia 20009
US

Read

the VerticalResponse marketing policy.