On May 12, 2017, at 6:51 AM, Markets & More
wrote:
Hi BFM Fans,


If you would like to avoid the crowded restaurants and create a carefree, home based Mother's Day celebration, we have what you need. Start with a Whisked quiche, follow with a Cucina al Volo pasta, toss a market salad and add Little Wild Things edible flowers and finish with Keswick cheeses and/or strawberries and yogurt with mint. Pies and cookies make great Mother's Day gifts. But if you want a cook a bit.....

CHEF AT MARKET
Our beloved Jonathan Bardzik is back to demo a Mother's Day menu--flavorful and easy recipes, with ingredients shopped from the market:
Pasta with shaved asparagus and bovre

Scrambled eggs with pea shoots

Cold tart strawberry soup

Quick pickled radishes

Spring greens with a Masala cider beet vinaigrette
BIKE HOUSE
was busy last week-- 11-1 at the market.
Music at Market:
Olivia M is back!
We have a lot of asparagus at market at all the produce stands and after years of tasting asparagus in every possible way, I love them best cooked quickly at high heat: r
oasting
, grilling, broiling or stir frying to bring out their fresh, sweet flavor. Steaming and boiling just don't concentrate the flavor the way high heat does. ( But very fresh asparagus are good shaved raw).
Radishes are the color champions of the Spring market (although we will have a few greenhouse cherry tomatoes at Garner). The French eat them swiped in a bit of butter and a sprinkle of salt. and
so does the owner/chef of Prune in New York
. You can slice them over pieces of buttered baguette. They are also good sauteed quickly in butter like baby turnips, which mellows the pepperiness. Fresh radish greens are good braised as well.
Try this recipe.
This one with b
rown butter and lemon
would be good on a rainy day.

At the stands this week:

CUCINA AL VOLO
:
Perfect Pasta Weather, especially when it is homemade by our Florentine chefs, Matteo and Daniele. If you want a lighter version of lasagne, sauce the burrata ravioli with their Bolognese. The lamb ragu was really good last week and carnivores rave about the Brisket ravioli. Matteo marinates and cooks the brisket for 24 hours in his spices and sauce. Lots of choices of pastas, filled and dry. Real Italian sauces and a soup every week.

WHISKED:
Whisked has been named b
est baker of DC
and if you have tasted their market exclusive Strawberry-Rhubarb pie, you would agree. I fell hard for the Sweet Pea, Mint and Goat Cheese Quiche after Jenna nudged me to buy it for lunch last week. Quiches: Asparagus and Cheese, Spring Greens and Feta, Sausage Mozzarella and Chive.

Sweet Pies: Rhubarb, Apple Rhubarb, Back and White Chess, Dutch Almond Apple, Bourbon Pecan, Sea Salt Chocolate Chess, Salted Caramel Apple pies. The Quiches are the spring faves: Mint Pea and Goat Cheese, Spring Greens & Feta, Asparagus and Swiss and there is a hearty Sausage Mozzarella & Chives.

Taste ALL the cookies: Choco Chip, Salty Oatmeal, Hazelnut Swirl, Pretzel Cowboy, Snickerdoodle, Molasses Spice, Flourless Mexican Chocolate and the Vegan Oaotmeal Chocolate Chip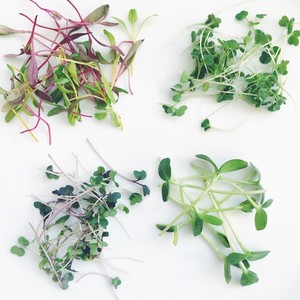 LITTLE WILD THINGS:
T
he best microgreens in the city, soil grown below Pub and the People and in a monastery in Brookland. Sweet salad greens with edible flowers, sun shoots, peashoots, radish greens and mixed microgreens this week.



GARNER

:

Strawberries, asparagus, spring onions, napa cabbage, kale, chard, tat-soi, baby beets, young Japanese turnips, collards, arugula, shelled sweet peas, lettuce, mixed salads, baby kohlrabi, daikon radishes, jams and sauces.



MOUNTAIN VIEW ORGANICS:

Radishes, kales, chards, baby collards, baby beets, young Japanese turnips, arugula, real iceberg lettuce, romaine lettuce, and herb and vegetable starts.



TRUCKPATCH

:

Salad Central! Arugula, mesclun salad mix, spinach, kale, onions, potatoes, eggs, pastured pork, bacon, and turkey.



NUMBER 1 SONS

:

Spring Ramp Kraut is here for just a few weeks. Daikon pickles, kimchi, Masala Cider beets, dilly beans and a dozen other pickles, krauts and sauces. Have you tried the Salsa Verde yet?



PANORAMA

:

French breakfast pastries, croissants, baguettes, and a dozen other breads: sourdough, whole wheat, walnut, raisin...



KESWICK CREAMER

Y:

Did you know that Keswick now has a nice line of goat and mixed milk (goat/cow) cheeses? Last week I loved the Vermeer: "a
dutch style, natural rind cheese that has the creaminess of gouda with the nuttiness of an alpine emmenthaler. Vermeer melts very well and is a great in soups, fondue, sauces, or sandwiches. It pairs quite nicely with Dream Weaver wheat beer from Troegs or Weyerbacher's Blithering Idiot barley wine
."


If you like cheddar, try the Lesher. Their Feta is Bulgarian style: rich, creamy, salty, tangy. The yogurt is wonderful with strawberries and makes a great sauce stirred into sauteed greens. And there are 20 other cheeses, all ready to sample at the stand.



REID

Is back for the season (they were at a wedding last week). YAY! They turn into a pop-up nursery in May, lots of herbs and starter plants for your gardens and containers.


See you Sunday, rain or shine.

Robin, Teds, Steve