From:
"Markets & More"
Date: November 4, 2016 at 11:40:01 AM EDT
Subject: 3 weeks!

fresh ginger and turmeric, together again, at Keswick
Hi BFM Fans,



Hard to believe we only have 3 more weeks left for this our tenth season and our big Thanksgiving shopping market on the 20th. The weather is still saying summerish today as I walked around DC, admiring the Fall Foliage. Dinner last night was a mix of seasons too. Cherry tomato salad from Mountain View with long-cooked kale finished with a hot pepper and chevre and roasted winter squash with tahini and yogurt and za'atar.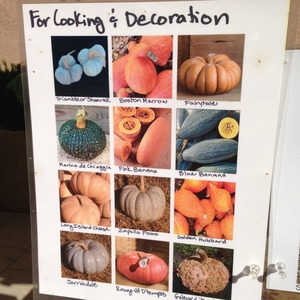 As you can see from above, there are lots more squash choices than just acorn, butternut and delicatas. The good news is that they are all cured and they will last for months in a cool, dry basement or closet or room. Truck Patch, Mountain View and Garner among them probably offer us 20 different varieties. I have been slicing, oiling and roasting different ones every week and I have not been disappointed. We will have lots of squash recipes for you in the next three weeks. Try a new one Sunday.



MUSIC,

of course, 10-12 programmed for us by Jason Mogavero.


BICYCLE HOUSE

from 11-1 The 60s degree weather that is coming our way for the next 10 days is perfect biking weather so make sure your bike is perfect too. I have to get mine over here.

What's at the stands?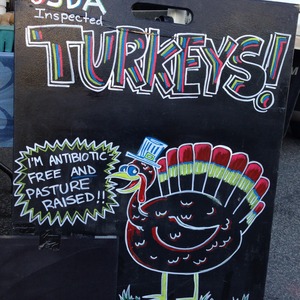 TRUCK PATCH:

Salad Central but they are also Talking Turkey this month: It is time to reserve the size you want. Stacia has both Red Bourbon Broad Breasted Gobblers or a Heritage Narragansett. Lots of pork in all its tempting forms. The bacon is famous in DC and Baltimore.
arugula,
baby spinach,
mesclun
mixed lettuces
Kale
chard
beets
Winter Squash
broccoli
brussels sprouts
pumpkins
purple cabbage.
sweet potatoes
potatoes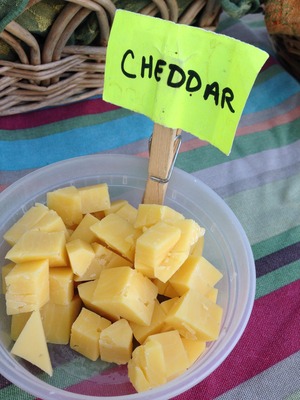 KESWICK CREAMERY: Yes, they have wonderful cheddar and Jonathan made a really good cream sauce for his cauliflower from the Wallaby and the Vermeer/ I scoop up 2 chevre and 2 yogurts every single week. The camembert and Frosty Morning are half goat/half Jersey cow and are both soft rind cheeses. The Austrian style quark, as I often say, is what cream cheese aspires to be. 15 other choices cheeses.

But did you know they also grow

fresh baby ginger and fresh

turmeric as well? You can freeze both of them for the winter if you want to stock up. I make a ginger turmeric tea every morning and I use crushed ginger and turmeric in curries. and many people like them because they are anti inflammatories. You can see what this

dynamic duo

looks like at the top of this email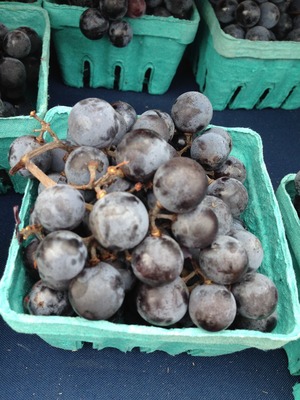 Concord Grapes conquer the world -- jelly, juice, sorbets
REIDS ORCHARD: It's not just apple and cider season, although they are pretty good reasons to stop at Reid.
Reid also has our grapes and those Concord grapes were the grapes of my childhood-- as fruit, as jelly, as juice -- when people say grape, my taste buds first think: Concord. Admittedly, it is an acquired taste for my husband who grew up in Capetown on South African grapes. As for apples, Reid probably grows the most interesting variety of apples in the region. And since they grow 75 different kinds of apples, there are new ones every week. Pears too. Hard cider fans can make their own, starting with UV cider. Pear Cider, Pasteurized cider as well.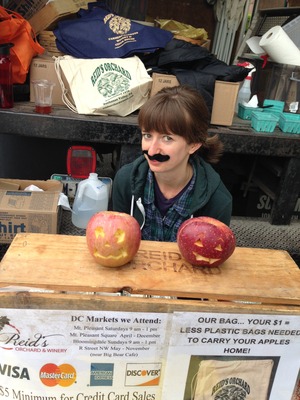 Pumpkins didn't have all the fun
WHISKED:

Jenna is welcoming Fall with pumpkins, pears, and squash in new pie and quiche recipes as well as the American classic Pumpkin pie. Indulge in something a little different, the Pear Cinnamon pie recipe. It combines roasted pears with a little lemon juice to balance out the sweetness of the fruit, cinnamon to add a little seasonal spice. The cookies are addictive. Ask her about her new VEGAN cookie.
Leek, Mushroom and Goat Cheese
Bacon, Cheddar, Onion
Kale and Feta
Apple Pie
Caramel Apple
Pumpkin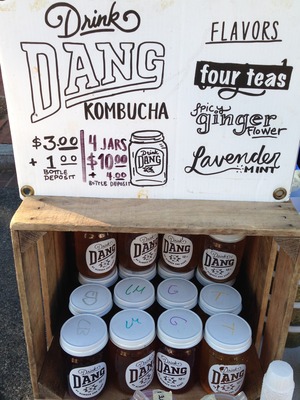 The lavender flew off the stand last week so come early for that one.
NUMBER 1 SONS: The kombucha selection now has: Lavender Mint, Ginger Flower, Turmeric Sunrise, Beet Cholate Mint. The Dilly Daikon is just what a New York Pickle lover like me needs to get through the end of cucumber season. It is really as good as a cucumber pickle!
NEW: Lipstick red Winter Watermelon

Radish and Dilly Daikon
Dill Pickles
Horsefire Pickles
NEW: Kale chi
Classic Kraut
Rosetido Curtido Kraut
Classic Kimchi
Raging Jalapenos
Curried beets
salsa verde
chile bears
all 3 are good sliced and roasted

MOUNTAIN VIEW ORGANIC:
Lots of unusual winter squash here that look like ceramics! (hint: perfect for a table centerpiece and delicious too: the tall, elegant Musque de Maroc for couscous, if you like and the deeply ridged Japanese Black Futsu that taste like chestnuts. Try a Daikon-Apple grated salad with a rice wine vinaigrette..
butternut and acorn squash
napa cabbage
bok choy
kales
Swisss Chard
peppers hot and sweet
green tomatoes for frying and chutney
Alpine Daikon
Purple Daikon
Purple Japanese sweet potatoesSwiss Chard
Potatoes
tomatoes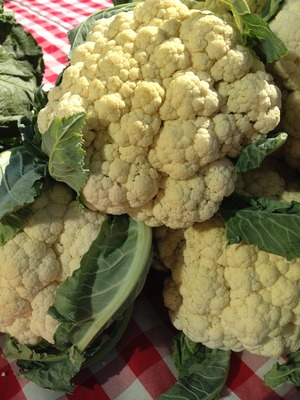 great roasted or steamed, then covered in cheese sauce

GARNER PRODUCE
: Bernard has superb green, wax and Romano beans right now. Don't miss them.
peppers in every color and heat
eggplants
5 summer squash
10 different winter squash
arugula
red and green and dinosaur kales
swiss chard
collards
tomatillos
onions, red and yellow
3 colors of potatoes
cranberry beans, shelled
red and white sweet potatoes
Indian corn
jack be littles
pie pumpkins
broccoli
cauliflower
greenx wax, romano beans
fresh parsley and sage


get your pumpkin in your pasta
CUCINA AL VOLO:
Jemal works with our two Florentine chefs (uncle and nephew) who recreate their homeland in superb, home made pastas. And now they have a restaurant in Adams Morgan, too. (Osteria Al Volo). Pumpkin ravioli, burrata ravioli, beef brisket ravioli, rigatoni, pappardelle and the sauces to go with them. Restaurant quality meals in less than 10 minutes. Put up the water to boil, the pasta and sauces are done in under 5 minutes.
PANORAMA ARTISANAL BAKERY:
Loic and his pastry baker,Damien, are two Breton who bring baguettes, and 20 different breads and lots of French pastries. Croissants, of courses and Pain au chocolat and Kouign Amann and scones and muffins and....

Please spread the word:

We are still matching WIC, SNAP and SENIOR FMNP UP TO $10 so that food access dollars go a lot further for healthy, local foods.

But please please bring back those bonus tokens and spend them. We are running out of them and they expire for good on the 20th.



See you Sunday
Robin, Teds, Steve
Markets & More
1318 Wallach Place NW
Washington, District of Columbia 20009
US

Read

the VerticalResponse marketing policy.