Hello BFM fans,
Some great summer recipes to change up
--easy to prepare so you can spend more time with friends; Tomato, Goat Cheese
and Basil Strata, Sausage and Grape Bruschetta, Grilled Tomato Sandwiches with
Blue Cheese Spread, Fresh Fruit Gratin and more
found here.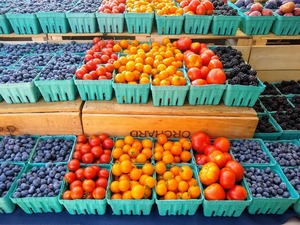 New and Notable:
*New*
Aronia berries are good in wine, jam, syrup, juice and Keepwell vinegar.
Also called chokeberries, they grow on shrubs native to North America.
Kathy Reid will tell you about them.

Basil Kombucha at Number 1 Sons— great for cocktails

Music --

this week is Laurel Hasley
Bike
House will be here from 11 to 1 to help you fix your bike.
Groff's Content Farm
:
Grass fed beef: ground, patties, stew cubes, bottom round, roasts, heart/liver,
and steaks. Free range turkey: breast, legs, and ground. Free range chicken:
whole, breast w/ or w/o bone, leg/thigh quarter, wings, legs, necks/backs, and
liver/heart. Bone broths. Sausages. Pasture raised Berkshire pork: ground,
canadian bacon, spare rib, shoulder roasts, smoked hams, pork chop, smoked
bacon, and ham hock.
Tip: Did you know they have dog treats?
Bri's Creamery:
Cold brew coffee, chocolate brownie, strawberry, cookies & cream, mint
chocolate chunk, brown sugar vanilla, and coconut vanilla chocolate chunk(this
is vegan). Did you know she bakes those brownies herself?

Reid's Orchard:
Blueberries, *New* Aronia berries, blackberries, yellow peaches, white peaches,
donut peaches, yellow nectarines, white nectarines, heirloom tomatoes and
cherry tomatoes. Apple sauce, apple butter, apple cider. Apples: Earligold,
Pristine, Zestar, Ginger Gold, Sansa, and Paula Red.
King
:
Variety of mushrooms fresh and dried; oyster,
shiitake
,
lion's mane, portabello, cremini, maitake, chestnut, pioppini, enokitake,
chanterelle, Lion's Mane double extraction, and Hungarian Mushroom Stew.
Tip: Maitake mushrooms also known as the hen of the woods have
fruity, earthy, and slightly spicy flavor. It is great roasted, grilled, baked,
deep fried or sauteed. It is also used in as a base in stock.
Mountain View:
Tomatoes, cherry tomatoes, heirloom tomatoes, mixed sweet peppers, Poblanos
garlic, new gold potatoes, red gold potatoes, magic molly potatoes, green
beans, string beans, Italian Romano beans, dragon tongue beans, okra,
mixed summer squash, cucumbers, large squash, beets, eggplants, fairy eggplant,
carrots, bok choi, beets, shallots, fresh herbs, eggs, Superstar onion, red
long of Tropea onions, fennel, mixed hot peppers, NuMex anathem peppers,
Shishitos peppers, kale, Romaine, fresh cut herbs, and salad greens.
Garners:
Melons: red seedless watermelon, sugar baby red seedless watermelon, red seeded
watermelon, yellow seedless, and sweet canary melons. Tomatoes: cherry
tomatoes, yellow low acid tomatoes, green tomatoes, early girls tomatoes, salad
tomatoes, Romas, speckled Romans, green Zebra, heirloom tomatoes, striped
cavern, and Cherokee purple. Peppers: hot peppers, bell peppers,
jalapenos, poblanos, and Shishito peppers. Eggplant, garlic, sweet candy
onions, green kale, corn, baby lima beans, eggs, pasta sauce, bloody mary mix,
jam, Purslane, basil bunches, cilantro bunches, and cut flowers.
Cucina Al Volo: You can avoid
heating the kitchen and put dinner on the table in 10 minutes with their
freshly dried pasta, ravioli, and sauces such as pesto, lamb ragu, beef
bolognese, cherry tomato, wild mushrooms, eggplant norma.
TIP: Did you
know that the spirally kale fusilli makes the best pasta salad? The spirals
capture all the bits and pieces of chopped vegetables, meats, cheeses and herbs.
Keswick
:
Cow milk and mixed milk cheese. Hard to soft, styles from around
the world, Robin's favorite yogurt and chocolate pudding. Gouda inspired
Vermeer, Swirly Girl, Mesquite smoked Smokey Isabelle, funky Cowttin. Soft-ripened, ash-covered Winter
Morning has a creamy center, ricotta, quark, and feta.
TIP: Whip chevre goat cheese (or ricotta) with feta,
quark, a little heavy cream and olive oil and serve with roasted or grilled
cauliflower and other vegetables.
Number 1 Sons
:
Everything Fermented! Kimchi: Kicky and Sons.
Pickles (cucumber kind): Crispy Koshers, Szechuan Spears, Sunny
Dills, Super Sours, Half Sours, Honey Habs, and Deli Dills. Other pickled Veg:
Stinking Rye Sauerkraut, Clean Kraut, Giardiniera, Masala Beets, Fermented
horseradish and mustard kraut, and Hot Hearts. Kombuchas flavors are
Turmeric Tang, Lavender Fizz, Original Ginger, and Watermelon Cucumber.
Condiments for every meal. Have you tried a Grilled Kimcheese sandwich yet?
TIP: Have you added some kimchi to tomato salad yet? Eye openingly good.
Panorama Bakery:
French
style bread and breakfast pastries. Demi french baguette, traditional artisanal
baguette, Petit Rustique, challah, sourdough, walnut raisin sourdough, multigrain
loaf, Honey-Wheat w/Oats, Walnut-cherry baguette, walnut-cranberry baguette,
olive baguette, multigrain baguette, and pumpernickel boule. Croissants:
butter, chocolate and raisins.
Whisked
:


Cookie 6-Packs: Chocolate Chip, Salty Oatmeal, Molasses Spice, Hazelnut Swirl,
Pretzel Cowboy, Snickerdoodle, Mexican Chocolate (flourless), Oatmeal Chocolate
Chip (vegan), Simply Sugar (vegan), and Chocolate Blackout (vegan). Pies:
Peach, Salted Caramel Apple, Lemon Coconut, Cherry, Bourbon Pecan, Sea Salt Chocolate
Chess, Key lime, and Strawberry Rhubarb. Quiches: Cheddar Broccoli, Spinach
with Sun Dried Tomato, and Kale, Pesto, Parmesan.
Produce Plus
is on going at Bloomingdale between Reid's tent and Number 1 Sons. Please come early because we run out of checks around 10 am
Time: 9am-1pm
Where: 100 block of R St NW in front of the Big
Bear Cafe
Clara, the Teds and Robin afar