Subject:
HALLOWEEN AT BFM
Date:
October 29, 2016 at 11:45:55 PM EDT
What's better than candy for the big H?
Hi BFM Fans,

Maybe you like Halloween candy for nostalgic reasons, but if you are looking for a delicious alternative, buy a crate of kid-sized
apples to give away. I have been doing that for years and only one kid has every refused it or looked disappointed. And if you prefer cookies to candy, well walk right over to Whisked.

We have a great day planned.

Our favorite chef at market, Jonathan Bardzik

will be here at 10 with a fabulous Fall menu:
Daikon, shungiku micro green, apple slaw with miso vinaigrette

Ground pork pumpkin Bolognese with pasta

Pumpkin curry with mushrooms

Cauliflower and kale with the BEST CHEESE SAUCE EVER
Queen Anne Langley Stem Honey
will be on sale, straight from the rooftop hives that beekeeper Ted keeps. Proceeds go to support and grow the beekeeping at Langley.
BIKE HOUSE at 11-1 to get your bikes into shape for the cooler Fall rides.
PLUS 2 musical groups so we will have music from 10-1.
10:00 SIMONE BARON: Simone is an

accordionist who plays Brazilian and Jazz

with a Bandolime player.
11:30: SPECIAL CONCERT FROM DC YOUTH ORCHESTRA. The kids playing are Pablo and Mateo Ronderos, and Imani and Zahra Edwards. They will be busking to raise funds for their participation in the tour to Chile that DC YOUTH ORCHESTRA is planning for December. In Chile they will be playing alongside Chilean youth orchestras and at the Presidential Palace and several other venues, both in Santiago and the South.
What's at the stands?

MYCOLUMBIA MUSHROOMS IS BACK. James and Natalia have 5 different kinds of oyster mushrooms, their umami filled dried mushrooms and maybe some magic ground mushroom powder --

LITTLE WILD THINGS: Check out these pictures of what Mary and Chelsea have been

growing for us this week!


Jonathan will be featuring their microgreens in one of his recipes at the chef table. I have become addicted to their radish, their fennel and their micro arugulas.

Vampires keep their calcium level up with a cheese platter.

So what cheese goes well with Halloween? A good melter like Vermeer for your roasted pumpkins? A cheddar to go with the apples? A DragonsBreath to scare the goblins?

we still have fresh baby ginger -- at Keswick!



NUMBER 1 SONS:
The kombucha selection now has: Lavender Mint, ginger Fower, Turmeric Sunrise, Beet Cholate Mint. The Dilly Daikon is just what a New York Pickle lover like me needs to get through the end of cucumber season. It is really as good as a cucumber pickle!
NEW: Winter Watermelon
Radish and Dilly Daikon
Dill Pickles
Horsefire Pickles
NEW: Kale chi
Classic Kraut
Rosetido Curtido Kraut
Classic Kimchi
Raging Jalapenos
Curried beets
salsa verde
chile bears

WHISKED: Pumpkin Pies, of course, are ready for a little Halloween action.
Bacon, Cheddar, Onion
Kale and Feta
Apple Pie
Caramel Apple
Pumpkin
Pear Cinnamon
Sea salt Chocolate Chess



Reid has a huge variety of heirloom and popular apples

Reid's Orchard
at Halloween is at peak Apple and peak cider and peak grape and they even have Kiwiberries. (Remember to wait until they are wrinkly and squishy soft before you pop them in your mouth. ) Reid grows 75 different apple varieties throughout the season and you should taste all the samples but I do not know another orchard who offers so many interesting choices. And if you want to make your own hard cider, start with their UV cider.

Time to talk Turkey with Stacia but don't miss the ground pork
TRUCK PATCH: Besides being known as Salad Central -- they are talking turkey. Lots of pork in all its tempting forms. The bacon is famous in DC and Baltimore. TURKEY ORDERS; It is time to reserve the size you want. Truck Patch raises a lot of turkeys for you.. Stacia is ready to take your order for either a Red Bourbon Broad Breasted Gobbler or a Heritage Narragansett.
arugula,
baby spinach,
mesclun
mixed lettuces
Kale
chard
beets
Winter Squash
broccoli
brussels sprouts
pumpkins
purple cabbage.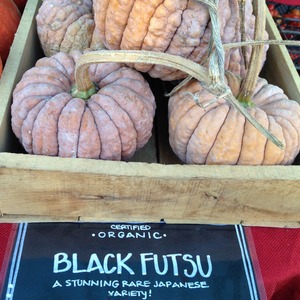 looks like a Japanese ceramic, tastes like chestnuts

MOUNTAIN VIEW ORGANIC:
Lots of unusual winter squash here that look like ceramics! (hint: perfect for a table centerpiece and delicious too: the tall, elegant Musque de Maroc for couscous, if you like and the deeply ridged Japanese Black Futsu
that taste like chestnuts.
butternut and acorn squash
napa cabbage
bok choy
kales
Swisss Chard
peppers hot and sweet
green tomatoes for frying and chutney
Alpine Daikon
Purple Daikon
Purple Japanese sweet potatoesSwiss Chard
Potatoes
tomatoes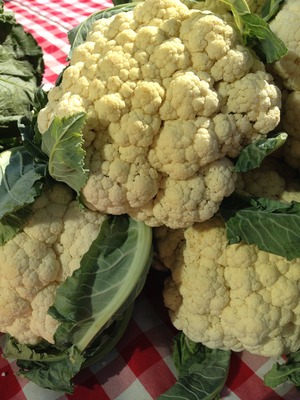 oil it and roast it. in florets or steaks.

GARNER PRODUCE:
Bernard has superb green, wax and Romano beans right now. Don't miss them.
peppers in every color and heat
eggplants
5 summer squash
10 different winter squash
arugula
red and green and dinosaur kales
swiss chard
collards
tomatillos
onions, red and yellow
3 colors of potatoes
cranberry beans, shelled
red and white sweet potatoes
Indian corn
jack be littles
pie pumpkins
broccoli
cauliflower
greenx wax, romano beans
fresh parsley and sage

get your pumpkin in your pasta
CUCINA AL VOLO: Two Florentine chefs (uncle and nephew) recreate their homeland in superb, home made pastas. . Pumpkin ravioli is perfect for Halloween parties,. Restaurant quality meals in less than 10 minutes. Put up the water to boil, the pasta and sauces are done in under 5 minutes.

PANORAMA ARTISANAL BAKERY. Loic and his pastry baker,Damien, are two Breton who bring baguettes, and 20 different breads and lots of French pastries. Croissants, of courses and Pain au chocolat and Kouign Amann and scones and muffins and....
See you Sunday. A Free apple for everyone in costume

Robin, Teds,
Markets & More
1318 Wallach Place NW
Washington, District of Columbia 20009
US

Read

the VerticalResponse marketing policy.