From:
Robin Shuster
Sent: Friday, May 13, 2016 12:37 PM
Subject:
Bountiful Basil at BFM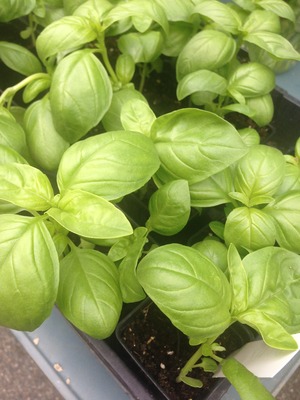 Hi BFM friends!



Basil plants are back at Reid, Mt View and Garner in many sizes. I am buying mine this weekend for my patio pots BUT I am not planting them or leaving them outdoors at night until Tuesday because they do not like night temperatures below 50 degrees.



MUSIC AT THE MARKET THIS WEEK:

We are very excited to have

s

inger/ongwriter, bassist, performer Olivia Mancin

i

who has gotten great

press for years.



Yeah, it has continued to be a drizzly, gray week but the spring greens and salads are LOVING it. Some farmers market only suggestions: green garlic (makes superb pesto), wild watercress, pea shoots, just picked squash blossoms (they flew out of Garner's tent in about 15 minutes last Sunday. eggs from duck and geese and just picked (30 minutes before Bernard starts the truck) squash blossoms. Wild watercress has a two week season so get it this week and make: English tea sandwiches, worthy of Downton Abbey, watercress salads,

watercress soups

.

Here too.



Lots of herbs and plant starts for your gardens, patios, decks, sunny kitchen windows, especially at

REID

who turns into a garden center popup for us every May. But they will have apples too: Honeycrisp, Pink Lady, Gold Rush, Gala, Fuji, Cameo and probably a few others as well.



GARNER

: Asparagus, arugula, kales, chard, tatsoi, bok choy and other Asian greens, mixed salad greens, lettuces, spinach, radishes, , turnips and despite the rain, some strawberries, we hope if the gray weather permits. First of the zucchini. Lots of culinary herb plants.



MOUNTAIN VIEW:

Little Gem romaine is my favorite salad lettuce right now. Cherriette radishes, purple Spring onions, sweet little hakurei salad turnips, the babiest beets with their tender greens, "amazing" spinach, swiss chard, green garlic, spicy mustard. tatso, curly kales Interesting plant starts include: Chinese Five Color Hot Peppers, Mint Julep, Padron and ChichiMeca hot peppers as well as basil and other familiar culinary herbs.



PANORAMA

will have their large selection of breakfast and French inspired breads as always. Baguettes, rustiques, multigrain, French rye, whole wheat, croissants, scones, etc.



TRUCK PATCH:

pastured pork chops and roasts and their famous bacon as well as their breakfast loving scrapple is back. I saw great looking baby spinach and kale leaves and fresh spring salad greens.



CUCINA AL VOLO'S

Home made Pasta is plentiful: Ravioli: goat cheese and thyme, burrata, roasted lamb, chicken cacciatore, beef short ribs lasagne, green kale fusili, smoked paprika pappardelle, fettuccine. Matteo's partner, Rolando, will be at the stand every week and since he makes the pastas with Matteo and Daniele, he can answer all your questions. Rolando trained in France and Italy and has been working with Daniele for years.



KESWICK CREAMERY

's cows and goats enjoyed the mostly mild winter and rewarded Melanie with a surplus of milk so she has more aged cheeses than she usually has this time of year. We love the Lesher and Vermeer and the Camembert this week. And the yogurt and quark cream cheese are still my reference points for both of those dairy products.

Pies:

WHISKED

just celebrated their 5th year anniversary and has a strawberry rhubarb pie that disappeared very fast last week so come early for that Apple, Salted Caramel, Rhubarb, Strawberry Lemon. Spring flavor this week's Quiches: Spring Green and Feta, Asparagus and Goast Cheese, Bacon, Cheddar and Onion and Southwestern Spinach and pepperjack cheese.

Finally, Kombucha is back at

NUMBER 1 SONS

. Gorlami radishes (vegan meatballs pickled with Italian sausage spices) are new this year and Spring Ramp Kraut is a short seasonal specialty with West Virginia ramps. My husband fell hard for them. If you are yearning for cucumber pickles, please please please try the dill pickled daikon spears. As you know, I am a demanding New York pickle nut, but these pickled daikon spears did it for me. Try them. Lots of krauts and cortidos for every taste. And my favorite fermented green salsa.

See you Sunday

Robin and the Teds

ps:

DC Greens' Farmers Market Brigade

- We are looking for a few good neighborhood volunteers to join the DC Greens' Farmers Market Brigade. DC Greens is a food access non-profit in DC that works to support food education, food access, and food policy in the nation's capital. DC Greens will be administrating this year's Produce Plus program, which provides additional dollars to spend at farmer's markets across DC for participants in the Medicaid, SNAP, WIC, and Senior nutrition assistance programs. If you are interested in becoming a Brigade volunteer, you can get more information here:

The incredibly successful

Produce Plus Program

will restart in June and will last until November 30th but we need volunteers for the Brigade.