Date: Tue, 4 Aug 2015 22:45:33 -0400
Subject:
Congo Orphan Fundraiser/Energy Healing Retreat at Samsara House 2023, Sunday, August 30th 9:30AM - 4:30PM
From:

wakeup@samsarahouse.org
You are invited to attend:
Congo Orphan Fundraiser/Energy Healing Retreat at Samsara House 2023, Sunday, August 30th 9:30AM - 4:30PM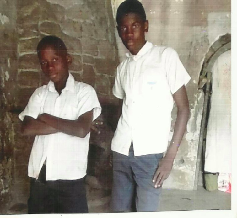 Congo Orphan Fundraiser/Energy Healing Retreat
with Carol Richardson, M.Div., M.P.H.
By Donation
* * * * *

Sunday 8/30/15 - 9:30AM - 4:30PM


(register to make an appointment, we will follow-up with you by e-mail)
About the Fundraiser:
Who? Two orphans in Kinshasa, Dem. Rep. of Congo
What do they need? Funds for school, which costs money, along with school clothes, shoes, notebooks, etc. Totaling $310. Also: $200 for them to have mattresses, and mosquito netting. Total goal: $510
What do you receive? Energy healing session – 20-30 minutes of blessing and healing, relaxing and being cared for by Anandi and Higher Beings (like Archangels and Ascended Masters) who work through her. Please have a donation in mind for either 20 minutes or 30 minutes (your choice).
Where? Samsara House 2023 in Bloomingdale, D.C.
When? Sunday August 30, 2015, 9:30 am to 4:30 pm. Please schedule a 20-30 minute session somewhere between those two times (last session begins at 4:30). You are welcome to hang out and drink tea before and after, connecting with others, enjoying art and cards from the Congo which can be purchased as well.
Rev. Carol "Anandi" Richardson, spiritual teacher of the Self-Realization Community, was born in the Democratic Republic of the Congo and raised in three African countries as well as three different states in the USA. She returned to Kinshasa, the capital city of the Congo in 2005, and sold fair trade art and jewelry for four years, sending over $20,000 in sales and donations back to Kinshasa.
Since 2006, she has supported a family of orphans of HIV and the conflict in Eastern Congo, where more than 8 million people died due to the struggles over "conflict minerals" and control of that region. You can bring hope and healing into the lives of these forgotten children, within a nation largely ignored by the media yet often exploited on the global scale of politics and economies. Please help us raise consciousness and connection around the world – we have the opportunity to expand

our efforts to help more Congolese orphans as well.
For more on Self-Realization Community, please go here:
By Donation
Credit Cards Accepted
---

Location
How to get here: Taking Metro is advised.
Metro: NoMa New York Ave Red line stop or Shaw Green line for a short walk (about 7 blocks from either metro), or get off at Chinatown and take the P6 to Randolph Rd Stop or the 80 to Lincoln and R Street NE Stop (both stops 1 block from R Street NW).
Parking:
Parking space is restricted to 2 hours on R Street NW. Best to look for parking on North Capitol Street NW, Quincy NW or S Street NW.
---

About Samsara House 2023, (est. 2013)
*
"Samsara House 2023" at 36 R Street NW is an Awareness-based shared space where world-shifting communities are meshworked

to experience and spread what's emerging. Samsara House 2023 rapidly prototypes models for the new world to ignite a planetary revolution in consciousness within ten years.
Samsara House 2023's strategy is to exemplify a
gift-economy
over the market economy, one that values giving over having. While all events cost at least one dollar to cover utilities, any additional contribution will go towards periodically giving half back to a socially responsible organization or cause in need that you also help identify. Going together as a river, we build a thriving community of communities and pave the way for a new world. Samsara House 2023 is a Holacracy powered organization founded by Cullen Kowalski at a row house in Bloomingdale, New Washington, D.C.
You never
change things by fighting the existing reality. To change something, build a new model that makes the existing model obsolete.
~ Buckminster Fuller
Be the change you wish to see in the world
. ~
Gandhi

* * * * *
Samsara House 2023

36 R Street NW

Washington, DC 20001