See this post about a new supper club from Clementina Russo, the former chef of the Big Bear Cafe. It is from the food blog,
Eat the District
.
Open Door Dining: A Brand New DC Dinner Club
The words "open door" require no explanation; they're instantly warm, friendly, and inviting, imploring you to drop by at any time and see what's going on. That's exactly how Clementina Russo wants you to feel. Clementina is the brains – and everything else – behind Open Door Dining, a new dinner club in DC hosting its first meal this Friday night. The outgoing chef at Big Bear Cafe, Clementina chose the name "as kind of a throwback to my living situation in Maine, where the back door was always open which led into my kitchen. My whole world walked in and out of there all the time, so it was the open door policy. You come in, hang out, you can have dinner." You should take up her invitation.
Open Door Dining, as with most dinner clubs, operates somewhere in the murky world between popup restaurant and dinner at a friend's house; there's no charge per se but a suggested donation, and you only receive details, including the location, after securing your reservation. Talking to Clementina, though, you get the sense that maybe this land of in-between is perfect for her. She's not a classically trained chef and instead has a PhD in physics; cooking has been a lifelong hobby and side project that largely through circumstance has at times become her primary job. She didn't move to DC to work in a kitchen but seized the opportunity to create nearly from scratch Big Bear Cafe's dinner program. Moving on from Big Bear, Open Door Dining gives Clementina the chance to keep on feeding people.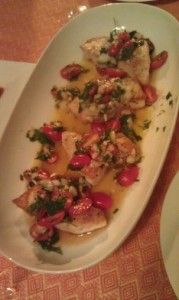 Clementina was gracious enough to invite me over for dinner this week, and let's make this clear: this is absolutely food you want to eat. Clementina cooked pan-seared swordfish topped with a tomato, onion, and parsley salad alongside a heaping mound of Swiss chard, which was cooked down with some garlic, onions, parsley and olive oil. Nothing complicated, nothing too fancy, just simple, fresh, and tasty food. This is what you can expect at Open Door Dining, as well – lots of vegetables, a bit of protein, each ingredient singing beautifully on its own. "That's the beauty of any culture that cooks," Clementina says. "You just treat [the ingredients] with respect." To that end, she takes care to source everything locally, and the vegetables are vibrant and tasty. When she makes a salad, "it's not, like, things in a bag. It's things like radicchio, and cabbage, and kale. It's shit that's real, and takes us hours to wash and spin." Trust me, it shows.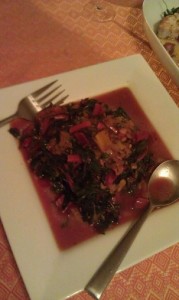 But Open Door Dining is about more than just food; it's about a state of mind, about entering a new place and sitting down to eat and feeling both comfortable and energized. This isn't Clementina's first go at a dinner club. While a doctoral student in Maine, she hosted the first – and unfortunately, only – meal of a dinner club she called Cask and Calliope: the latter, of course, being Homer's muse of epic poetry. In Clementina's words, it was meant to be "a place where you come and sit and eat really delicious food… and if you just sit with this meal…. and listen to everybody tell a story and listen to yourself have a thought. We wanted to make a place where you'd have your own muse…then communities get built. And that's the idea with Open Door."
Maybe that's exactly what Washington, DC – a city known for its breakneck pace and populated by big, loud restaurants often aimed at the business lunch crowd – needs more of. A quiet space with great food, interesting people, and good conversation, a place to relax and unwind and eat and be yourself. At any moment Clementina might break into an art history lesson, as she did while we sat and talked, or the person on your left might start reciting poetry. You'll want to come back; it's a good thing the door is always open.
To sign up for Open Door Dining's email list, visit http://about.me/opendoordining. You can also follow them on Twitter @opendoordining. To make a reservation, just reply to their email…there are still spots available for Friday!