From: "Markets & More"
Subject: Look at these gorgeous heirloom tomatoes - BFM Sun
Date: August 22, 2020 at 6:50:50 PM EDT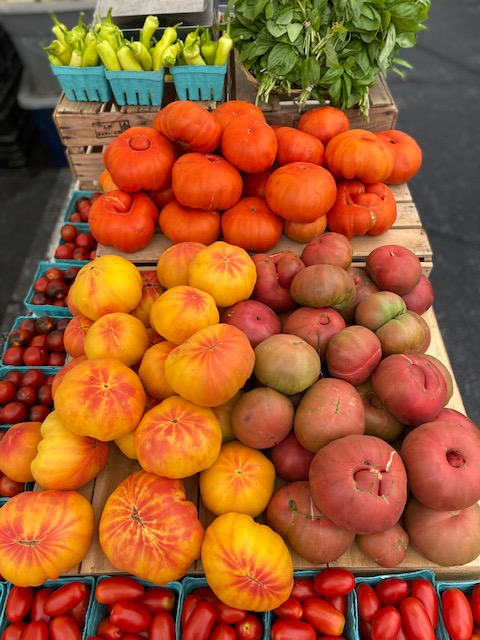 Sweet. Juicy. Tomato-ey heirlooms at Shenandoah (and Garner and Reid)
Hi BFM fans

Remember we are always open, rain or shine, hot or cold (next to the Big Bear Cafe), Sundays 9-1. First and R NW.

What to do with an heirloom tomato? You can use it for anything but I like to take advanage of their thin walls and extra juiciness. Just slice an heirloom tomato, salt it, drizzle generously with some olive oil and wait for the tomato-grette to form. It's ambrosial. I usually tear up some basil or mint leaves and sprinkle some sliced chives or greens from my scallion garden. Dunk some bread in it afterwards. Or save it to dress a salad. My current obsession is Cherokee Purples but there are lots of choices at Garner, Reid and Shenandoah.

In Barcelona they make one of my favorite tapas at the height of the tomato season:
CATALAN TOMATO BREAD (PA AMB TOMÀQUET)
All you need is a baguette to toast, a really ripe and juicy tomato, a fat clove of garlic, good olive oil and salt. Here is the recipe.

Tip: have you run out of basil? Garner and Reid have basil plants that should be prolific until a frost in....late October? Jus remember to keep pinching them back.

NEW or notable this week:
Lots of Heirloom Toms at Shenandoah Seasonal and Garner and Reid- German Stripeys, Cherokee Purple, Red Brandywines-- I have been slicing one for lunch every day.

Castleton plums at Reid-- for snacking or grilling and serving alongside any meat or chicken

Chileheads: lots of different hot peppers at Shenandoah, Garner

Sweet, heat-tolerant lettuce heads at Shenandoah

Hot Peppers- shishito, poblanos, serranos, jalapenos, Hungarian yellow wax and more.

Yard-long beans at Shenandoah and scroll down for Ali's tips on them.

Cocozelle Italian heirloom squash at Shenandoah and Reid -- nutty flavor and low on seeds.

New Potatoes

Tomatillos

Okra

Sweet Onions

Watermelon, Cantaloup and green fleshed Melons-- so good sprinkled with lime

Nik Sharma's quickly pickled nectarines with or without the chicken thighs marinated in mint, scallions and yogurt was a revelation. (Making it again tonight). The chicken is good too.
Shenandoah Seasonal: lots of BASIL, lots of heirloom tomatoes as well as classic slicers, tender Swiss chard, peashoots, salad mix, summer crisp lettuce, bok choi, celery,beets, herbs. eggplants, zucchini, summer crisp letttuce, Hungarian hot wax peppers, shishito and mixed variety of bell peppers. Have you tried the Cocozelle Italian heirloom zucchini. Nutty without many seeds. Basil, parsley, scallions and garlic. Stir fry the green and red yard-long beans!

Ali's long bean Tip: Make a quick stir fry with garlic and curry powder, then simmer in coconut milk and add bok choi or swiss chard.
Pre Order at https://www.shenandoahseasonal.com/shop

SWIRLY GIRL CREAMERY: Try the Tommy Goat to make your pesto. Are you ready for a Greek Salad with tomatoes, cucumber and WHIPPED feta? Yes, whip their feta and you will be delighted by what this simple change in texture does. Mark also likes to spread Winter morning on cucumbers.
Morbier: this semi soft cow cheese with a layer of vegetable ash is a shout out to one of my favorite French cheeses and caused a formal French Diplomat to get so riled she threw a basket of it AT Mark.

Winter Morning is their most popular, a bloomy rind cheese that Mark loves to spread.

Feta, Tomato Basil Bovre and Farmhouse cow cheeses are all great with pasta -- or on crackers.

You like Funky cheese, they have Firetruck and Cowttin. Firetruck is a salty, hard, grater, Cowttin is similar to a triple cream. The longer you keep it, the funkier it gets. Very French.
GARNER'S PRODUCE: Orders for Saturday by 7pm Friday f you want one of their seasonal boxes: Be sure to mark BFM when you order, https://www.garnersproduce.com/dcmarket-pickup.

Corn. Peppers in various shapes and heat and colors, eggplants. Okra. Swiss chard, citrusy purslane great with tomatoes, kales, various types of squash and zucchini, collard, tomatoes (early girls, cherry, heirloom), loose onions, stir fry greens, Salad mix, lettuce mix, cabbages, cukes, garlic. Stone ground grits and cornmeal, hot pepper jelly. Hot sauces. Some herb plants. blackberries. New potatoes. Green and wax beans. basil. cilantro. Melons!

GROFF'S CONTENT: Lots of cuts of beef, pork and chicken this week at the stand this week

REID'S ORCHARD AND WINERY: Reid now has FIVE summer apples; Premiere Honeycrisp, Sansa, Zesta, Pristine and Paula Reds. And lots of peaches and blueberries and blackberries and those plums.
Red Haven yellow peaches, White Lady white peaches, Summer Beaut yellow nectarines, Jade white nectarines, Saturn Whit donut peaches. But not just fruit -- check out the vegetables as well. Green and yellow beans, 6 kinds of summer squash including Cocozelle Italian zucchini, cukes, cherry tomatoes, heirloom tomatoes and yes, herbs to plants from the greenhouse! Not too late. Their region famous cider, honey, apple and fruit butters.

PANORAMA ARTISANAL BAKERY: Two French bakers means baguettes, croissants and French inspired breads. Lots of breakfast pastries too. The breads freeze well in foil and a freezer bag.

KING MUSHROOM FARM: Pre order available at http://kingmushroomfarm.com. Order by FRIDAY for Sunday pickup at BFM. Shiitake, maitake, cremini, portobello, exotic mix, lion's mane, king trumpet, chestnut, oyster...Yes, you can order at the stand too. Grill those mushrooms.

WHISKED: 6 Pack Cookies: Chocolate Chip, Salty Oatmeal, Molasses Spice, Hazelnut Swirl, Snickerdoodle, Pretzel Cowboy, Assorted, Flourless Mexican Chocolate (GF), VEGAN: Oatmeal Chocolate Chip, Lemon Poppyseed, Chocolate Blackout.

Prime Pie Time: Cherry, Apple, Chocolate Chess, Strawberry Rhubarb, Key Lime.

The POPUP CHINESE STREET MARKET: (AKA Those DUMPLINGS) Handmade dumplings, buns, shumai, dandan noodles kits, chili oil sauce, East Asian staple meals.

NUMBER 1 SONS:
Pickles: Half Sours, Crispy Kosher, Honey Habaneros, Sunny Dills, Super Sours, Horseradish
Kimchi & Kraut: Sons Kimchi, Kicky Kimchi, Ramp Kraut
Veggies: Cider Masala Beets, Giardiniera
Kombucha: Original Ginger, Lavender Fizz, Peach, Watermelon

But if you want these, Pre order and they will have it for you at the stand. : Salsa So Verde, District Dills, Clean Kraut, Szechuan Sears, Sicilian Spears. Any problems ordering? 202-570-4453 Pre Order market pickup.Order before FRIDAY at 7 am and specify 14&U FM: https://number1sons.com/collections/number-one-sons

CUCINA AL VOLO: Keep some of their pasta in the freezer for a quick meal that will not heat up the kitchen. It is the same pastas and sauces they serve in their restaurants. Want a cold pasta salad? The green kale fusilli spirals are the very best -- they capture every little bit of cheese, meats and vegetables. See the recipe at the top of the email. Pesto Pasta is another great idea. Burrata and Butternut Squash Ravioli is an all seasons fave to keep in your freezer.

Remember that a Pasta Primavera with bits of fresh vegetables is a classic, light dish.

Here is the list:
Burrata ravioli

Spinach and ricotta ravioli

Beef brisket and Parmesan ravioli

Roasted butternut squash and mascarpone ravioli

Egg fettuccine

Smoked paprika pappardelle

Green kale fusilli

Squid ink chitarra

Egg strozzapreti

Hand made potato gnocchi

Eggplant Parmesan (Take and Bake)

Beef lasagna (Take and Bake)
SAUCES:
Pesto

Lamb ragu

Bolognese sauce

Cherry tomato sauce

Wild mushroom sauce

Eggplant sauce
best,
Robin and Ted