From:
Robin Shuster
Sent: Saturday, May 18, 2019 7:56 PM
Subject:
BFM SUNDAY Chef J, Ice Cream and Mushrooms!
Hi Everyone!
Want to know more about our terrific new ice cream producer?
B
rianna McCollough of B
ri's
Brookland Creamery
told me this:
"I grew up on a farm in Tennessee, and both my parents and grandparents are multi-generational dairy farmers. We grew up churning ice cream the old-fashioned way, taking our time to get that delicious, homemade creamy flavor. So when I make the ice cream now, I craft it in small batches with that same idea in mind--using a slow, deliberate process with high-quality ingredients to create a premium product that folks keep coming back for."
"Chocolate brownie and cookies & cream tend to be the most popular flavors! But the coffee has been super popular lately! The chocolate brownie is my favorite, and folks love to hear about how I bake the brownies from scratch so that they're fresh and fudgy."
This week's flavors: Cold Brew Coffee made from Petworth's Lost Sox roastery, Chocolate Brownie, Brown Sugar Vanilla, Mint Chocolage Chunk, Cookies and Cream and Vegan Coconut Dark Chocolate Chunk. I was blown away by the Cold Brew Coffee when we had a tasting with Bri. What I love is that these are not super sweet ice creams. You taste the flavors and the milk, not the sugar first. The Brown Sugar Vanilla would love to be plated with Whisked chocolate chess or strawberry rhubarb pie. And if you are a coffee fiend, a scoop of Cold Brew Coffee in your favorite caffeine would be incredible.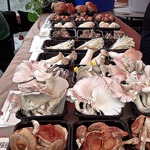 And check our new Mushroom Producer,
KING MUSHROOMS:
From a small farm on the Eastern Shore of Maryland , David grows 8 types of mushrooms, along with a great Hungarian mushroom soup and mushroom grow kits.
facebook.com/kingsmushroomfarm/
Our favorite chef at market



Jonathan Bardzik

will be here Sunday morning with four new recipes that celebrate this week's seasonal harvest. (No one else demos 4 recipes at market.He is amazing and a great storyteller as well as cook. I always pick up a new technique or tip when I watch his demos. And the recipes are always good. Curious about those weird kohlrabi? Jonathan takes up the Kohlrabi Challenge this week plus 3 other recipes.
Are you a Game of Thrones Fan?
KESWICK
has ideas for a viewing party cheese platter. Mead washed Brie? Spicy Pimento with Dragons Breath?
Bike HOUSE
is back too.
Music back
What else will we have? 4 kinds of strawberries, apples, green and purple asparagus, gorgeous carrots with fronds to make into carrot pesto, sugar snap peas, onions, spring onions, scallions, young elephant garlic, tons of greens, broccoli rabe, broccoli and cauliflower, swiss chard, kale, collards, beets and greens, tatsoi, bok choi, cucumbers, lettuces, radishes, sweet potatoes, lots of spinach, herbs: thyme, oregano, basil, thai basil, cilantro, flowers and vegetable plants, cherry and early girl tomatoes from the high tunnel, cheeses, yogurt, mushrooms (oyster mushrooms, shittakes, lion manes, enoki, cremini), eggs.
GARNER
AND
MOUNTAIN VIEW




REID's

: In the month of May Reid's stand turns into a huge pop up nursery (with apples as well as cider). NEW vegetable plants this week:
Zucchini and Yellow Squash plants, Banana Pepper plants: hot and sweet varieties, Cucumber plants. A few new tomato varieties: Roma, Burpee Beefsteak and Supersonic. The first of our Geraniums to be ready for planting: Dark Red and Cardinal Red colors... more to follow in a week or two. NEW herbs this week: Thai Basil, Spicy globe Basil (perfect for container gardening), Orange Mint, Tuscan Blue Rosemary. Still have supply of cool crop vegetables: kale, spinach, swiss chard, broccoli, brussel sprouts, cabbage green and red, lettuce, many tomato varieties cherry, grape and standard; and pepper varieties sweet and hot herbs including sweet basil, thyme, parsley, sage, lavender. 5 different fruit butters. Themed herb gardens in 24" planters: Pizza Herb garden, French Herb garden, Paul Simon Herb garden (parsley, sage, rosemary, thyme, basil), & Hot 'n Spicy Herb garden.

www.reidsorchardwinery.com
Number 1 Sons:
Kombuchas, krauts, kimchi, pickles and ferments
PANORAMA
Breads. croissants, breakfast pastries
WHISKED
:
Strawberry rhubarb, Sea Salt Chocolate Chess, Bourbon Pecan, Cherry, Salted Caramel Apple. Quiches: Cheddar Broccoli, Spinach with Sun Dried Tomatoes, Kale, Pesto, Parmesan. pies. Try their cookie packs: Chocolate Chip, Salty Oatmeal, Molasses Sice, Hazelnut Swirl, Pretzel Cowboy, Snickerdoodle.
Vegan Cookies
: Oatmeal Chocolate Chip, Simply Sugar Chocolate, Blackout.
Flourless
: Mexican Chocolate
Gardeners: PLANT YOUR GARDEN! Reid, Garner and Mt View have herbs: thyme, oregano, basil, thai basil, cilantro, flowers and vegetable plants for your gardens, pots and patios.
Specials or New this week:
Half sour Pickles -- first of the season cucumber pickles are here--at Number 1 Sons

Virginia Apple Cider Vinegar Honey Habaneros, Szechuan Spears and Lemon Dills too

Strawberry rhubarb pie

Last of the ramps: Spring Ramp kraut and Ramp Surprise at Number 1 Sons

Gold Rush Apple Ramp Kimchi-- who knew apples would love to kimchi?

First of the year Summer Squash at Garner

Sugar Snap Peas at Mountain Vie

Half sour Pickles --

first of the season cucumber pickles-at Number 1 Sons
Robin and the Teds.
Robin Shuster
Director
14 and U Farmers' Market
Bloomingdale Farmers' Market
robin@marketsandmore.info
T:202.234.0559
C:703.328.6559