Date: Wed, 16 Sep 2015 11:28:17 -0400
Subject:
You're invited next Tuesday to try Deep Relaxation Yoga with Alchemy Crystal Bowl Meditation at Samsara House 2023, September 22, 2015 7:00PM-8:30PM
From:
wakeup@samsarahouse.org
You are invited to attend:
Deep Relaxation Yoga with Alchemy Crystal Bowl Meditation at Samsara House 2023, next Tuesday Evening, September 22, 2015 7:00PM-8:30PM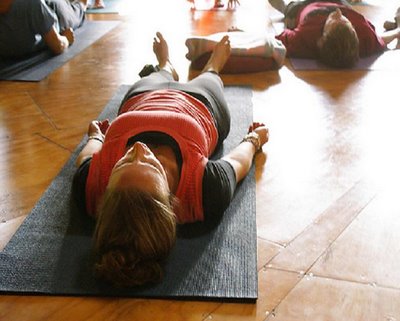 Deep Relaxation Yoga
and Alchemy Crystal Bowl Meditation
with Deb Koolbeck
at Samsara House 2023
* * * * *

Tuesday 9/22/15 - 7:00PM - 8:30PM


(please arrive early, starts promptly)
About the Event:
Learn to Relax through the Yoga of Sleep - Yoga Nidra

We do not really sleep in yoga nidra, but through the process of doing it we learn a new way to deeply relax body and mind. Yoga Nidra is practiced the entire time while laying on a yoga mat in savasansa - corpse pose. You might bring a blanket to keep you warm or for comfort (even to support your knees) and of course, wear comfortable clothing.

The instructor walks you through a relaxation process and meditation. Once you begin to master the relaxation that can be uncovered through Yoga Nidra, you might even feel incredibly refreshed as well as relaxed.

They say an hour of Yoga Nidra can be like 4 hours of sleep
In addition, this special yoga nidra experience includes further relaxation and meditation while listening to an alchemy crystal sound bowl.
Please plan for up to 1.5 hours for this event. To begin you will experience the process of Yoga Nidra. The alchemy crystal bowl is then played to deepen the relaxation and enhance your overall experience. The total amount of time that the bowl will be played is determined in real time.
The tones produced by the crystal bowls, including the one for this event, are not just heard by the ear, one feels them in the body, with certain tones affecting the energy centers (chakras) for healing, balancing & meditation.
Should time permit, a question and answer period will be offered.

Come try Yoga Nidra at Samsara House 2023. No yoga mat required, but you might what to bring your own blanket (none are provided) and of course, your own mat if you have one. Eye covers and eye pillows may also be brought to the session but are not required/necessary.
- $20 Earlybird Online Ticket (until midnight September 21st)
- $25 September 22nd - Day of the Event
- $25 At the Door - Cash Only
In addition, you are encouraged to have some cash on hand in case you feel inspired to offer an additional tip in gratitude for the experience.
Limited to a group of 12 people - a waitlist will be created in case someone cancels
---

Location
How to get here: Coming by Metro is advised.
Metro: NoMa New York Ave Red line stop or Shaw Green line for a short walk (about 7 blocks from either metro), or get off at Chinatown and take the P6 to Randolph Rd Stop or the 80 to Lincoln and R Street NE Stop (both stops 1 block from R Street NW).
Parking:
Parking space is restricted to 2 hours on R Street NW. Best to look for parking on North Capitol Street NW, Quincy NW or S Street NW.
---
Deb's stressful days working on the Hill led her to discover yoga. As her practice grew to taking a class a day, she decided to learn more because of all that she was gaining mentally, physically, and spiritually. To expand her understanding she took teacher training, and has found her home in teaching yoga. She particularly enjoys introducing adults and kids to yoga in friendly, fun and safe way, helping students experience how yoga is for every body type and skill level.
Deb invites students of all levels to explore themselves and their boundaries in a safe, playful, and engaging manner in her classes, encouraging them along their journey. Her sense of humor shines through, bringing a sense of ease and community to the room. Deb's background in science and education allow her to share clear and easy to understand instructions and explanations on the poses and other aspects of yoga.
Yoga taught Deb how to relax (some) and to settle in to herself and the journey of life, and sharing that with students in her yoga classes brings her true joy.
---
About Samsara House 2023, (est. 2013)
*
"Samsara House 2023" at 36 R Street NW is an Awareness-based shared space where world-shifting communities are meshworked

to expand each other's world-view and experience and share that which is emerging. Samsara House 2023 rapidly prototypes models for the new world to template upon and ignite a planetary revolution in consciousness within ten years.
Samsara House 2023's strategy is to exemplify a
gift-economy
over the market economy, one that values giving over having. While all events cost at least one dollar to cover utilities, any additional contribution will go towards periodically giving half back to a socially responsible organization or cause in need that you also help identify. Going together as a river, we build a thriving community of communities and pave the way for a new world. Samsara House 2023 is a Holacracy powered organization founded by Cullen Kowalski at a row house in Bloomingdale, New Washington, D.C.
You never
change things by fighting the existing reality. To change something, build a new model that makes the existing model obsolete.
~ Buckminster Fuller
Be the change you wish to see in the world
. ~
Gandhi

* * * * *
Samsara House 2023

36 R Street NW

Washington, DC 20001